Performance through Passion!
Passion is what drives us as we strive to do things properly and with dedication. By always approaching all areas of our work with a great deal of commitment and characteristic regard for sustainability, we not only establish one of our most important corporate values since the company was founded, but strengthen our partnership with clients on a long-term basis. Our mission is to consistently deliver the best products to meet specific requirements. It is our determination to produce high quality that makes us such an innovative "Made in Germany" company, as well as our Research and Development delivering in the highest quality and a constant stream of new developments.
We love a challenge – as the only good customer is a satisfied customer. We stand out from the competition, particularly on account of our bespoke solutions and a strong service focus, and, in all areas, we demonstrate how versatile our company is. The force and rigour of the brand, representing the fourth pillar of our brand concept, is reflected in a strong market orientation, sense of drive, and efficiency of the company. Through these values we're able to offer our customers effective, tailored solutions, even if market structures have changed.

Since 2011, ROWE MINERALÖLWERK GMBH has supported the "ROWE RACING" motorsport team, which has already started in a total of 7 racing series just short of 200 times. They celebrated placing on the podium more than 20 times. The greatest victory in ROWE RACING's history was however in 2016 with their triumph at the 24-hour classic in Spa-Francorchamps and they succeeded in bringing home a second overall place two years later. Another classic is the 24-hour Nürburgring race, at which the team once again proved their ability and quality with a second-place overall finish in 2017. Since the 2019 season, the team from ROWE RACING has started at various Nürburgring races, with both the Porsche 911 GT3 R in the Blancpain GT series and with the BMW M6 GT3. The aim of the sponsorship is to test lubricants under the hardest conditions on the race track in a "moving racing laboratory", and to further develop the ROWE brand on a national and international level. The results from testing conducted during races are then invested directly into research and allow the continuous ongoing development of existing and new lubricants. .

The successful cooperation between ROWE MINERALÖLWERK GMBH and Jean Pierre Kraemer, who is the face of Europe's most successful car YouTube channel, "JP Performance", has existed since 2013.
With his friendly and relaxed manner, he brings ROWE products closer to his community, as well as to many car fans on all channels.
This year, ROWE will once again be the subject of creative videos from JP Performance on Facebook, Instagram and YouTube.
BORUSSIA DORTMUND&nbsp&nbsp
Intensity, authenticity, a sense of binding force and ambition are the strengths of BVB. They're also the strengths of the ROWE brand that the company markets in over 90 countries. This authenticity is also reflected in our passion, drive and unconditional dedication which also demonstrate the values of the top international club. On account of these common attributes, at the start of the 2017/18 season ROWE MINERALÖLWERK GMBH decided to go into partnership with this club that is so steeped in tradition.
SV Darmstadt 98
Mit Beginn der Saison 2017/2018 wurde die ROWE MINERALÖLWERK GMBH Premiumsponsor des SV Darmstadt 98. Die "Lilien" spiegeln die ROWE Philosophie wider – Leidenschaft, Ausdauer und Zielstrebigkeit. Räumliche Nähe zu Darmstadt und das Familiäre bei den Lilien waren ausschlaggebende Gründe für den Beginn der Partnerschaft. Im Zuge des Engagements ist die ROWE MINERALÖLWERK GMBH neben TV-relevanten Werbebänden auch in den digitalen Medien präsent.
Regionality and global success – ROWE gets involved with sport at all levels. Squash is one of the fastest sports in the world. As well as solo national and also international athletes, ROWE has been a partner and sponsor of the Black & White Racket Club e.V. Worms for many years. The club, founded in 1998, has regularly played in the national squash league competing for the German club championship for many years. In 2011, the team succeeded in winning the championship for the first time and became German champions. Only two years later the team was able to bring the title back to Worms. Winning the European Club Championships four years running (2012-2015) is among the Worms squash club's greatest achievements and has only taken place once in the tournament's history. ROWE does not just support the national league team, but also top solo athletes properly represented on the PSA World Tour.
Mohamed El Shorbagy: "Beast of Alexandria"

World Ranking: no. 2
2017: World Champion
Karim Abdel Gawad: "The Baby-faced Assassin"

World Ranking: no. 3
2016: World Champion
Paul Coll: "Superman"


World Ranking: no. 5
2016: World Champion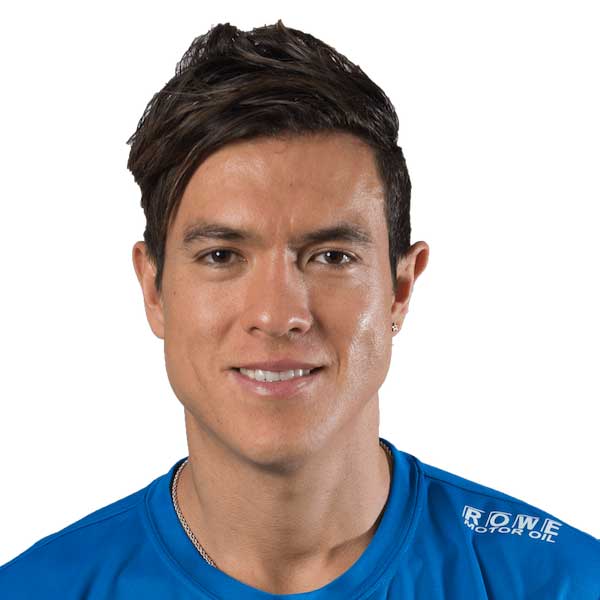 Miguel Angel Rodriguez: "Columbian Cannonball"

World Ranking: no. 9
2018: British Open Winner
Yannik Omlor


World Ranking: no. 125
German Ranking: no. 3
Gregory Gaultier: "The French General"

World Ranking: no. 132
2015: World Champion
Valentin Rapp


World Ranking: no. 144
German Ranking: no. 4
Dynamism and Speed!
ROWE's also active on the water and has supported the ROWE PowerBoat team for some years. The team is heading to the start line of the Formula 2 World and European Championships, where driver Stefan Hagin will pilot the roughly 6m long, 2.3m wide and 300 horsepower racing catamaran. The several-time champion Stefan Hagin reached the high point of his career with his 2009 victory, attaining the title of World Champion, and was able to bring home the European title in the following year. As well as the ROWE PowerBoat team, the company also supports the F1 ATLANTIC team, which has already successfully taken part in a number of Formula 1 World Championships with driver Duarte Benavente. With ROWE PowerBoat and the F1 ATLANTIC team, the lubricant producer ROWE MINERALÖLWERK GMBH is committed to the most demanding series in motorboat racing. And so, the HIGHTEC Racing and HIGHTEC Power Boat motor oils ROWE developed for motorsport can be successfully put to use in its own team and be tested under the hardest conditions.